3W-56i B2 CS
€1.295,00
Article nr.: 10.000.610 (Zug/Tractor) | 10.000.611 (Druck/Pusher)
Price: €1.295,00 VAT included
| | |
| --- | --- |
| Cylinder capacity | 57.0 ccm |
| Power | 4.44 HP / 4 KW |
| Rpm range | 1.500 – 8.500 U/min-1 |
| Weight incl. ignition | 1.850 kg |
| Oil/gasoline ratio | 1:50 / 2% Mix |
| Ignition | 6.0 – 8.4 V DC |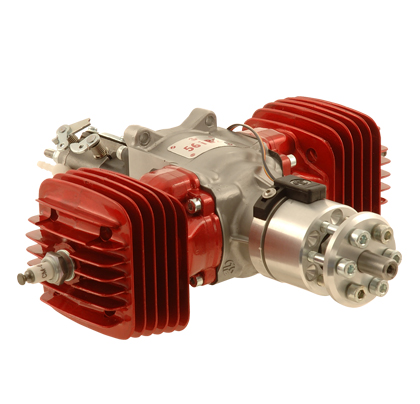 3W-56i B2 CS
Light boxer engine as a competition engine (CS version)
The engine is very well suited for 3D flight as well as for flight models XTRA/230 and VOTEC/230 – FUNS or another Funflyer with a model mass of up to 9 kg. The engine is moreover a good choice for towing or scale models. It impresses with quiet running behaviour thanks to its 3-bearing crank-shaft.
The 'little' boxer engine impresses with its running smoothness and weight advantage. The total weight from the engine and muffler system is nearly identical to that of a comparable 3W 55i with muffler system.
Due to the matched 3W muffler system, the engine is comparable to other manufacturers' 70 ccm engines because the performance data are analogous. The engine is suitable for a wide variety of models and distinguishes itself through its reliability and durability.
The 3W Competition series (CS version) distinguishes itself through greater performance, more rapid response behaviour, and high torque. The engine thereby achieves a high standard of performance. Transfer ports in the cylinder and crankcase are modified.
The programmed ignition curve is exactly matched to the engines and guarantees good running characteristics in all rotational-speed ranges. The standard ignition can be operated with a voltage of 6 V up to 8.4 V (2-cell LiPo).