3W-170Xi B2 CS
€2.042,00
Article nr.: 10.002.225 (Zug/Tractor) | 10.002.226 (Druck/Pusher)
Price: €2.042,00 VAT included
| | |
| --- | --- |
| Cylinder capacity | 170.00 ccm |
| Power | 18.8 HP / 13.82 KW |
| Bore diameter | 51.00 mm |
| Stroke | 41.00 mm |
| Rpm range | 1.100 - 8.500 U/min-1 |
| Weight incl. ignition | 3.930 kg incl. ignition |
| Crankshaft | 3 ball bearing |
| Oil/gasoline ratio | 1:50 / 2% Mix |
| Ignition | 6.0 – 8.4 V DC |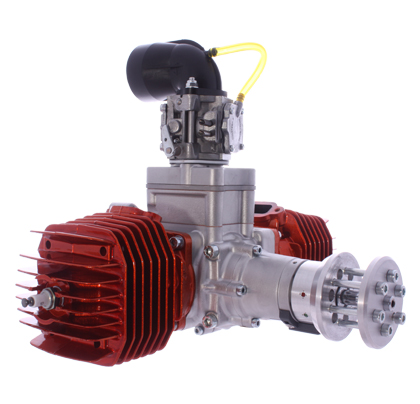 3W-170Xi B2 CS
Aerobatics engine as a competition engine (CS version)
The engine is ideal for the 3 metre aerobatics class. With sufficient performance, the 3W-170Xi B2 CS provides enough power for all figures. It can be deployed without hesitation even for towing large models. It impresses with quiet running behaviour thanks to its 3-bearing crankshaft.
The engine develops a unique running smoothness with the matched 3W muffler system. It is suit-able for a broad variety of models due to the weight-performance ratio and distinguishes itself through its reliability, durability, and power.
The 3W Competition series (CS version) distinguishes itself through greater performance, more rapid response behaviour, and high torque. The engine thereby achieves a high standard of per-formance. Transfer ports in the cylinder and crankcase are modified.
The microprocessor-controlled ignition enables simple engine control. The programmed ignition curve is exactly matched to the engines and guarantees good running characteristics in all rotation-al-speed ranges. The standard ignition can be operated with a voltage of 6 V up to 8.4 V (2-cell LiPo).