3W Modellmotoren – drive solutions for the model flight
For more than 35 years, we have been supplying high-quality model engines "Made in Germany". Our employees develop, construct and manufacture a wide range of engines from 1-cylinder to 6-cylinder engines for ambitious competition and hobby pilots.
Full Competition Power!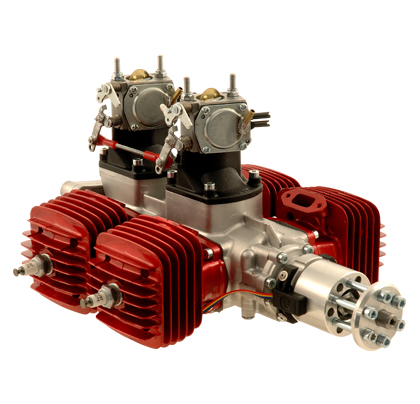 The four cylinders and five-bearing crankshaft guarantee a quiet run. Vibrations are minimized whereby the model and electronics are preserved in the long term. The noise level is reduced at the same time. The engine is suitable for a broad variety of models and distinguishes itself through its reliability, durability, and power.
Competition Series (CS-Version)
All engines are obtainable in the Competition series. Here the engines are optimized for performance enhancement. The transfer ports in the cylinder are modified and suitably reworked in the crankcase. The individual cylinders' compression is adjusted in multiple-cylinder engines. Compression is increased. The following benefits result from this:
The engine's torque and power are increased.
Throttle response improves in a lower RPM range.
The Competition series's cylinders are painted with a highly temperature resistant, metallic orange 2K engine paint applied in two coats.
Twin Spark Option (TS-Version)
All engines beginning at 55 ccm can be delivered as a twin-spark (TS) version. Both ignitions work independently of one another here. The following benefits can be achieved using the TS version:
The engine runs at a lower idle; general operational behaviour is quieter.
Safety and reliability increase in both single- and multiple-cylinder engines when using the TS cylinder.
When one ignition fails, the second ignition working independently ensures that the engine continues to run with slightly reduced RPM.
Contact us
Please do not hesitate to contact us at any time. To process your inquiries as quickly as possible, we kindly ask you to use the contact opportunities on the right.