View Cart
"Exhaust manifold 3W-684i B4, 2 in 1, Y-shape" has been added to your cart.
3W-684i B4 TS CS
Article nr.: 10.003.210 (Zug/Tractor) | 10.003.211 (Druck/Pusher)
Price: €8.768,00 VAT included
Add to wishlist

| | |
| --- | --- |
| Cylinder capacity | 684.0 ccm |
| Power | 63.0 HP (46.3 KW) |
| Bore diameter | 66.00 mm |
| Stroke | 50.00 mm |
| Rpm range | 1.200 - 6.500 U / min |
| Weight incl. ignition | 16.350 g |
| Crankshaft | 3 ball bearing |
| Piston rod | 3 ball bearing |
| Oil/gasoline ratio | 1 : 50 - 1 : 80 (min. 92 Octan) |
| Ignition | 6.0 – 8.4 V DC |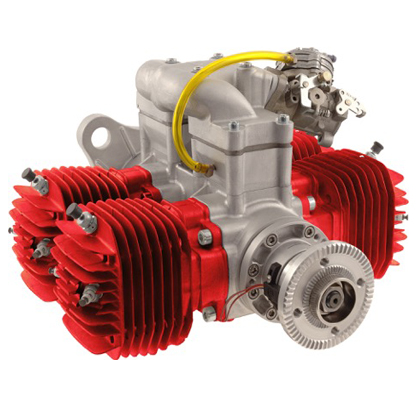 3W-684i B4 TS CS
High-performance 4-cylinder engine as a competition engine (CS version) with twin spark (TS) function
A powerful, 6-bearing crankshaft and large ball and needle bearings guarantee a long service life. The engine was basically developed for industrial applications. Both the aircraft and the electronics are protected in the long term thanks to the minimization of vibrations. As a TS CS version, the engine unites all of the performance parameters of the TS and CS versions.
The rear crankshaft drive enables the installation of additional devices such as a starter or genera-tor. Decompression valves installed as standard make starting the engine easier. A 1/2″ square in the propeller's drive plate enables the engine to be started externally.
The TS version (twin spark) impresses with a lower idle and quieter running behaviour. In addition, the boxer engines obtain even greater reliability this way. When one ignition fails, the second one working independently ensures that the engine continues to run.
The 3W Competition series (CS version) distinguishes itself through greater performance, more rapid response behaviour, and high torque. The engine thereby achieves a high standard of per-formance. Transfer ports in the cylinder and crankcase are modified.
The microprocessor-controlled ignition enables simple engine control. The programmed ignition curve is exactly matched to the engines and guarantees good running characteristics in all rotation-al-speed ranges. The standard ignition can be operated with a voltage of 6 V up to 8.4 V (2-cell LiPo).